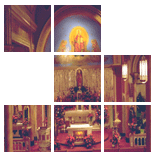 Enter Email:



Summary: Fear of the unknown can paralyze us. We don't want to change. Jesus, however, challenges us to consider our need to be open to possibilities that exist, so as to grow in God's sight and be better prepared to answer God's call in whatever form it takes.

Summary: Being a nation under God is certainly what we have been called to be. The process of becoming such is far more reaching than the words we insert into our pledge of allegiance. Comparing ourselves to other nations will not make it happen. Cosmetic approaches may even lull us into believing that we have accomplished what we have not. Only a shift to the new approach to which Jesus calls us can make it happen. Ultimately because nations are made of people, the values by which we live is what will determine whether or not we are under God.

There are 2 sermons in your results.