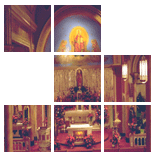 Enter Email:



Summary: Fear of vulnerability can keep us too focused on the speck in the other person's eye and keep us from seeing the plank in our own eye.

Summary: After Jesus describes the values that should be in operation in the reign of God on Earth, he offers his followers several specific rules for living that should result in a world full of compassion, wisdom, mercy, generosity and love. Each one is a pearl of great price. And each one is a gift of grace.

There are 2 sermons in your results.