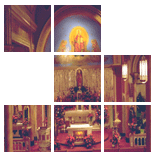 Enter Email:




Summary: We all have energy cycles throughout each day. Sometimes were up, sometimes we're down. We may even be more susceptible to temptation during the low moments, but God's grace and truth is much available in our downtimes as at any other point of the day. We should touch base with God at any hour, to keep our hearts in tune.

Summary: When we're trying to determine our calling, we need to find the point where our unique gifts and genuine needs intersect. By acknowledging God's Lordship, we decide beforehand that we are going to obey our unique calling, even prior to finding out what's at stake.

Summary: God sometimes uses our physical bodies as a means of getting our attention and entering our lives.

Summary: We each, whether we realize it or not, are called by God. What would it mean to recognize this, to say, "Speak, Lord, your servant listens"?

Summary: Paul's lecture to the Corinthian church on food and fornication has ultimately to do with the relationship between body and spirit. It confronts a false understanding of spirit/body separation, and the argument that "as long as I'm not hurting anybody else, what I do with my body is only my business!" As such, it applies today as much as it did 2,000 years ago.

Summary: The story of Samuel's calling provides an example of how important it is not just to hear God's voice with our ears, but to truly listen with our hearts.

Summary: Over half the calls that Americans now receive are unsolicited messages from spammers and scammers. But such annoyances should not prevent us from answering the call of God.

There are 7 sermons in your results.