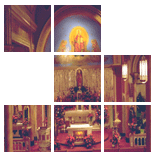 Enter Email:




Summary: Christianity sells, as bookstore merchandise and gospel music sales show. It's also possible to embrace faith in ways that treat it as a beneficial commodity. Christianity sells, of that there is no doubt. The question is whether we are buying it simply to adorn our living or whether we are buying it as a gift for others.

Summary: In this text, which contains the first "I am" speech of Jesus in the gospel of John, Jesus offers not merely physical sustenance but ongoing spiritual nourishment for those who receive the gifts he offers and believe that he is indeed the one sent by God for the redemption of the world.

Summary: "Manna" means "What is it?" The people in John 6, referring to the miraculous loaves and fishes, ask Jesus, "Where is it?" They had originally come to hear Jesus speak, but forgot his words after being distracted by the food. Are we so distracted by ritual and symbols that we forget the reality of Jesus and his Word that lie behind them?

Summary: The bread of the sacrament is for you — because you are worth it. You are worth it because the host at this banquet says you are. He has died for all our sins — and he has invited us, personally, to partake of this bread that endures.

There are 4 sermons in your results.