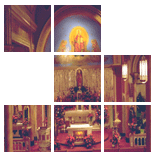 Enter Email:




Summary: There are plenty of times when we know what to do to solve certain life problems, but where we simply do not want to do what's right. The challenge for us from this parable of the Good Samaritan is to act on what we do understand of the call to follow Jesus.

Summary: Love triumphs over legalism.

Summary: In the story of the Good Samaritan, Jesus expands the definition of neighbor and challenges us to realign ourselves with the values of the kingdom of God.

Summary: Jesus uses a carefully constructed story to criticize any and all worlds of narrow exclusivity.

Summary: When Jesus has said that the greatest commandment is love for God and the second, love for neighbor, he is asked, "Who is my neighbor?" His answer is to tell the story of the Good Samaritan. What if he had been asked, "Who is my God?" The answer might be a parable that sounds quite a bit like the story of the Good Samaritan because the kind of thing the Samaritan did in that story also shows us the kind of God who is revealed in Jesus Christ.

Summary: The compassion we show is important, even vital for human life, but it is not hope. Until we hear and really listen to the voices of those who are under the thumb of powerful social, political and economic systems that rob them of their self-sufficiency, independence and freedom, we have only pity enough to show compassion. We do not have hope.

Summary:
With its expansive definition of "neighbor," Jesus' parable of the Good Samaritan continues to shock and challenge conventional thinking.

There are 7 sermons in your results.