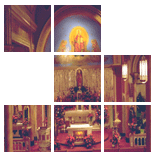 Enter Email:



Summary: Jesus extended the meaning of the "You shall not murder" command to teach that we are responsible for one another.

Summary: Jesus teaches what a community that embodies the ethos of God's kingdom looks like. He offers instruction on forgiveness/reconciliation, relationships between men and women, marriage and solemn vows.

Summary: Christians often struggle with how to express anger, which can make us feel uncomfortable. In his Sermon on the Mount, Jesus tells us how to focus this powerful emotion.

There are 3 sermons in your results.