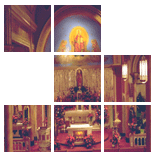 Enter Email:



Summary: Jesus summarized the Law of Moses in two commands: loving God and loving our neighbor. This summary and the Ten Commandments behind them give us what we need to make decisions in the ambiguous situations of life.

Summary: Jesus answers the question about the great commandment by quoting two laws that have a vertical and a horizontal component. We lift up our eyes and love God, and look around and love our neighbor. Vertical, horizontal? Sounds like a cross to me ...

Summary: Jesus presents an exceptional idea that has survived the centuries: a perfect commandment about loving both God and neighbor.

Summary: In this exchange with an earnest and well-meaning scribe, Jesus teaches the scribe, and us, not only what is the greatest commandment, but what is the one overarching purpose of every commandment.

There are 4 sermons in your results.