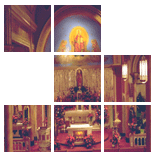 Enter Email:




Summary: The body of believers in a local congregation must, by necessity, work as a unit. If one part of the body suffers, the whole body suffers. If one part of the body succeeds, the whole body benefits. There are many distinct parts or roles that Christians can play within the church. When each of these roles are fulfilled in ways that honor God, the local congregation becomes an effective, life-giving "organism." God not only appoints people to certain roles, but gives them the desire and ability to fruitfully play those roles out.

Summary: Paul described the church as the body of Christ and individual Christians as different parts of that body. A football team with players at different positions can illustrate the same truth. Because they are members of one team, they can each be as good as possible at their individual tasks. The concept of "team spirit," which holds individuals together in a single entity, can also help us to understand the role of the Holy Spirit in the church.

Summary: Most of our focus as Christians ought to be on today: daily work to do, daily benefits to receive and daily tending to perform. But we also need to keep our todays linked to God's tomorrow.

Summary: Nehemiah, Ezra and the prophets invited the people to listen to the Word of God. At first there was sorrow and weeping because the people found out they were not following God's will, but that gave way to rejoicing because God blessed them with forgiveness. The same can be true for us.

Summary: By reading only the first part of Jesus' sermon, we learn that the promises of the Spirit, the good news, release and healing, come from God before we respond. God's offer does not depend on our correct response.

Summary: Paul uses the analogy of a human body with many parts in service to the one body to describe the church. The message of this passage to us, today, is that we, the church, are called to present a united face and a united front to the world, with our many different "members" all working together to present the body of Jesus Christ to the world. It is upon this unity that the church will stand — or fall.

Summary: In matters of the spirit, we can get lost in the past or the future; it's only in the present that we encounter God.

There are 7 sermons in your results.