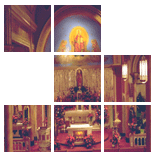 Enter Email:




Summary: Hearing requires more than having ears. There are and have always been those with ears to hear but they do not hear. Perhaps such deafness can be attributed to the fact that we tune out what we do not wish to hear. The deaf man in today's gospel could be healed, because he could admit that he did not hear. Such an admission might also be the beginning of our personal and collective hearing.

Summary: Just as speech and participation in the conversation of life is a primary way we express our personal identity, so, too, speech and participation in the conversation of life is a primary way we express our identity as followers of Jesus Christ.

Summary: When Jesus healed the man who was deaf, he also restored him to wholeness, to his community and to relationship with God. God's surprising grace comes into our lives as well, restoring us in ways that we never expected.

Summary: We can learn by watching the Great Physician, and perhaps prove to be his assistant.

Summary: Jesus met a man confined by his impediments to a silent, frustrating situation. The man's mind was fine, but there was no way for him to get what was in it out to the world around him. Jesus changed all that and gave him a way out. Even when we're trapped in situations of birth, disease, accident or prisons of our own making, Jesus offers hope and a way out.

Summary: In healing the deaf man, Jesus restored him to wholeness, community and perhaps to worship. This act of healing represents the incursion of God's kingdom, which will be marked by wholeness, peace and justice, into God's broken creation.

Summary: The incident here foreshadows 1 Corinthians 13, in that we see love, hope and faith in action. We learn further that a community of friends overflowing with faith, hope and love is not sufficient unto itself. One thing is still needed: personal encounter, personal interaction, with Jesus. Put community and personal encounter together, and there will be a movement that tells the world about the Gospel.

There are 7 sermons in your results.