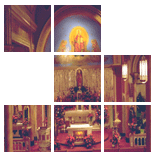 Enter Email:



Summary: Despite our culture's assumption of Christmas cheer, Christmas can be a hectic and even sad time for many. When John asserts that the Word became flesh, we can hear in that the affirmation that God has experienced our grief. We take comfort in knowing that God understands our vulnerability.

Summary: The individual stories surrounding the Nativity include our own accounts of our meeting the Christ of Bethlehem. And as we tell the story of our Christ encounter to those we love, we breath new life into Luke's narrative.

Summary: The illumination of God comes from Jesus, the true light who enlightens everyone.

There are 3 sermons in your results.