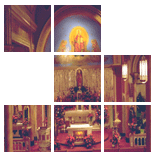 Enter Email:




Summary: Being created by God in Christ Jesus gives us the power and freedom to do the work of God here on this earth now. How we respond to this determines what we leave behind. We are created for good works.

Summary: John 3 has for many of us acquired heavy overtones of trite moralism and a particular understanding of salvation. A closer look shows Jesus addressing our sense of futility, with a bracing call to choose life.

Summary: "Why am I here?" is one of the most commonly asked questions in the human experience. The apostle Paul explained in Ephesians 2 that not only are we here for a specific purpose, but that God has been preparing us to fulfill that purpose for as long as we have existed. The first step in finding significance is being reconciled with God. Once our spirits have been reunited with him, we set off on a meaningful adventure that has the satisfying potential to exceed anything we could even imagine.

Summary: The writer of the letter to the Ephesians writes about the members of the Ephesian church -- as well as himself -- of having once been dead in trespasses and sins. Yet he affirms that God offered them a way out of their spiritual death. Out of his great love and mercy, God "made us alive together with Christ -- by grace," he wrote. Such grace is available for us as well. Anyone who is spiritually dead can be resurrected into new life through the immeasurable grace of God that is free for the taking.

Summary: This passage is about salvation and how it comes to us. We miss this if we focus too heavily upon John 3:16 and ignore the larger passage in which it is embedded.

Summary: What more can be said about this foundational — and straightforward — statement of Christian life and faith, this prototypical expression of how it is between God and us? Yet there is much that can and must be said anew in our day, because there is much in this statement that is hard for 21st-century people to hear.

Summary: God's formula for salvation includes grace and faith. When you put the two together, the result is good works.

There are 7 sermons in your results.