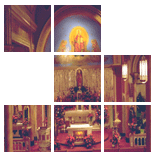 Enter Email:




Summary: Miracles are the solution of choice for many of us. Beyond that, we often even prefer that someone else provide them. But in many ways, we are called to be the source of the miracles for which we and others pray. This often calls for being the answer to our own prayers.

Summary: When the prodigal son returned home, it may not have been an act of repentance, but a ploy to get back in his father's good graces. His father probably was not fooled, but he lovingly welcomed the prodigal home anyway. God is like that, welcoming us to come be part of the family without first demanding our repentance. He invites us to the party in the hope that we will want to stay

Summary: This parable, traditionally known as the Parable of the Prodigal Son, is really about three characters. We can all identify with two of them. We need to identify with the third.

Summary: Becoming a parent makes one vulnerable to pain as rebellion, problems or hurt befall one's children. The same is true for God, our Father. But that vulnerability factor also makes him ready to welcome us home, tell us he loves us, tell us he forgives us and tell us that supper is ready.

Summary: There are three main characters in this story, which is a story about "church" as much as anything else: a "father," a "prodigal son" and an "elder brother." With which character are we identified? With which character shall we identify, as the church moves into an ever more uncertain future?

Summary: The first, 40-year phase of Israel's long journey to freedom has ended. "Today," Israel has arrived at the promised land. From now on, there will be no provision of manna, the food of God, for the land and the faithful work of the people of God are sufficient to produce what is needed. So it is with us. God has brought us where we need to be; manna has been provided. But now, will we do what we need to do to produce the needed harvest?

Summary:
The disgrace of Egypt lasted for decades among the people of Israel. After they crossed the Jordan, God directed Joshua to roll away the disgrace. God heals us of such things as addiction, unhealthy religion and damage from racism, even though the effects can be long-term.

There are 7 sermons in your results.