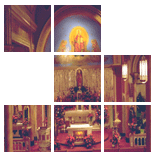 Enter Email:




Summary: Significant religious experiences are given to prepare us for God's mission in the world.

Summary: The first verse of Mark tells us that Jesus is the Son of God but the people in the Gospel story don't know that. The account of the Transfiguration, as Jesus starts on his way to Jerusalem, reminds us who it is who will hang on the cross at the end of that journey. Truly human, in solidarity with all who suffer and are oppressed, he is also the God who saves us. That is not a conventional view of God but it may have the merit of being true.

Summary: The Transfiguration is a powerful experience in which Peter, James and John encounter Jesus in all of his glory. This text, however, teaches an important lesson about religious "mountaintop" experiences: all experiences of God's grace are gifts to be shared with others.

Summary: Our mountaintop experiences are not places we need to preserve. Rather we must be willing to follow Jesus back down the mountain into the messiness of ministry with and connection to the people around us.

Summary: When we edit our lives to let others see only what can be easily and superficially judged as "successful," we invite others to become voyeurs into our lives in return for a fleeting feeling of superiority. Doing so limits us to one-dimensional relationships. Instead, Jesus invites us to a rich and deep community that can bear the joys and perils of life's journey.

Summary: The Transfiguration serves as a point in between this world and the world to come. In the Transfiguration, the law and the prophets become embodied in Elijah and Moses. God speaks. This scene gives us hope that God has not given up on this world.

There are 6 sermons in your results.