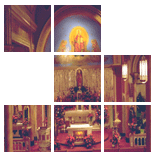 Enter Email:




Summary: Today's story of God and Abram suggests that God acts like the tooth fairy in giving a gift while the recipient is sound asleep. That's a sign that God's saving work is entirely by grace. Abram is counted as righteous because he trusts God's promise that he will have many descendants. Finally, in the biblical story, God's promises will be fulfilled in the descendant of Abram named Jesus, and those who trust God's promise in him are accounted righteous.

Summary: If we hope only for earthly things, that's all we can expect to get.

Summary: Although we typically learn faith by imitation, the One we are ultimately imitating is Jesus.

Summary: Depression, while serious, is not to be feared. By God's grace and with the help of modern medicine, it can be healed.

Summary: We live in a judgmental age in which no one measures up, either to the expectations of the critical or to their own expectations. Insults are the order of the day. Does the Bible take part in that judgment? When Paul warns that there are enemies of Christ and "their god is their belly," what's he saying? Are the body-shamers right? No. God is the giver of all good things. Each one of us, no matter what we look like, bears the image of God. The trick is to accept and celebrate the good things of this earth without making gods of them.

Summary:
If we begin our Lenten journey in a spirit of discouragement, it is good to remember Abram and Sarai's discouragement when God's promises were not quickly fulfilled. The signs of God's faithfulness are all around us if we but look. More importantly, taking part in God's great promise may be the first step to believing God and having it reckoned to us as righteousness.

There are 6 sermons in your results.