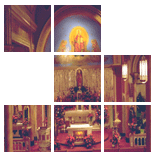 Enter Email:




Summary: The prophet describes a servant whose suffering brings redemption. The prophet introduces the understanding that the suffering of another can heal. Christians hear in this description of the servant one who helps us understand the ministry and death of Jesus. We find healing for our own suffering, compassion for the suffering of others and gratitude to God for redemptive suffering.

Summary: In the church, we are given to each other to love each other. When people we love are going through personal Good Fridays, when they and we are grieving or suffering, in the end, the only thing we have to give to each other immediately is ourselves. In the longer term, we have the gospel to offer and we have hope to offer, but in the short run, when the pain is fresh, we have ourselves to give. By holding on to one another for dear life, we enter into that sense of belonging together that Jesus urged on his mother Mary and his disciple John.

Summary: The apostle John was an eyewitness of the crucifixion. He describes in vivid detail his memories of that day of horror. But John, in the light of the Resurrection, saw not only the wretchedness of the Crucifixion but also how God turned it all around so that the Crucifixion became an avenue of salvation. That is how the darkest day in all of human history became the day we call Good Friday.

Summary: We learn what goes through Mary's mind as she sees her son on the cross.

Summary: We are people of the old, rugged cross. We proclaim the good news of the kingdom of God, even in the midst of struggle and what appears to be defeat.

Summary: The passion narrative is framed with descriptions of two different gardens. The time Jesus spent in the garden of Gethsemane is important because it connects us to the hope and restoration we find in a new garden on Easter morning. How can we truly meet Jesus in the garden of Gethsemane so that Easter is more meaningful than ever before?

Summary: Because many people have heard the Good Friday story so often, they may think they know it through and through. But what they overlook in the story can be as important as what they think they already know.

There are 7 sermons in your results.