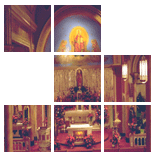 Enter Email:




Summary: Jesus' initial public act of ministry in the synagogue at Capernaum called the community to realign its life and values around the announcement of the coming of God's age of salvation. His ministry to us calls for a similar realignment from us.

Summary: Following Jesus means recognizing his authority in our lives, and using the authority derived from him to exorcise the unclean spirits of our age.

Summary: What does the New Testament mean when it speaks of the authority that people saw in Jesus? Is this authority something that was available only to him, or is it possible that his followers might have at least a measure of it? And if so, what is the secret?

Summary: We are being prophetic whenever we proclaim that God is always with us and will not desert us. We are also being prophetic when we urge people to listen when God is near.

Summary: We should never give in to despair, even when our efforts seem to make no real difference against the suffering of the world. Jesus' victory over the unclean spirit teaches us that God ultimately will win the victory over evil.

Summary: Our gospel reading is the first of six stories in the New Testament about Jesus healing on the Sabbath. Usually that provoked criticism. But if we look at the full significance of the Sabbath in scripture, we see that it was just the right time for healing to take place. It was a sign that the kingdom of God, the goal of creation, was breaking in. Now, in the renewal of creation brought about by Jesus' resurrection, we are on our way to that goal and are called to be God's instruments for the healing of the world.

Summary: In the story of the demoniac in the Capernaum synagogue, we are shown someone who can be found in the midst of the community of faith, yet who is isolated and all alone. When Jesus heals, Jesus restores the relationships between God and all of us. It may not occur to us that people in our midst feel isolated even when they're sitting in our midst. But it happens. For that matter, some of us may not have figured out we're the ones who feel apart and lost. We have a part to play in the healing, in the restoration and in the salvation.

There are 7 sermons in your results.