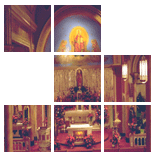 Enter Email:




Summary: When we look at the implications of believing in Jesus, many of us are doubters as well as believers. Sharing those doubts is one way in which we, like Thomas, can rise above our doubts and grow in our faith.

Summary: Doubting Thomas would have fit quite well in our doubting society. Doubting has become a way of life, and, as contradictory as it may sound, atheism has found its way into religion. So what makes us true believers in a world of doubt?

Summary: Life includes plenty of sources of discouragement, but encouraging others is a true Christian ministry. We can encourage others by building them up, praying for them, stating the vision and offering direct words of encouragement.

Summary: God helps to make peace between the siblings, Faith and Reason, so that the embrace of one is not the rejection of the other.

Summary: Jesus didn't appear to his disciples on Easter with a superhero "I'm back!" speech or a putdown of those who had abandoned him. Instead, it was with a message of peace and forgiveness. He had been crucified because he didn't behave and speak as people wanted him to, and when he rose from the dead, he didn't speak as people might have feared he would. His cross and resurrection mean the dethroning of our idols and the possibility of genuine faith in the true God. They mean our reconciliation with God.

Summary: Believing the Christian message is easy for some because their faith is superficial. For others, the work of trying to suppress all doubt and to believe is tiring. Thomas was in neither category. He doubted, but when the risen Christ came to him, Thomas not only believed the fact of his resurrection but realized that Jesus Christ was "my Lord and my God." He knew he could trust in him in life and in death.

Summary: Using breath and breathing as a metaphor for forgiveness allows us to explore what happens when we retain sin, as opposed to letting go of sin. Confirming a fear or negative emotion helps us to believe our feelings are real but releasing and forgiving gives us control of how we move forward.

There are 7 sermons in your results.