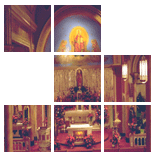 Enter Email:




Summary: We're close to Christmas and most of us aren't really prepared for the birth of Christ. Neither Elizabeth nor Mary, who meet in the gospel, was prepared for what happened to them, but they believed God's promises. Faith is not something we naturally have, but is brought about by the creative word of God. And it is that saving word that will come to us at Christmas, however unprepared we may be.

Summary: Gaining an appreciation of the biblical meaning of sacrifice will add depth to our celebration of the Christmas season.

Summary: Mary and Elizabeth share a time of joy, but they also teach the church. Luke offers his initial interpretation of the far-reaching significance of Jesus' birth not from a dramatic event, but from the most ordinary of circumstances: two women talking together in a house. Luke celebrates the contribution of women. From this tender and humble conversation, the church learns that the birth of Jesus changes everything.

Summary: Christmas is about something far bigger than the things we so frequently hear. It is about the will of God being brought to pass in our world.

Summary: Mary and Elizabeth shared a bond of miraculous pregnancies and being blessed by God. Their visit strengthened each of them and gave them joy as they obediently followed God's commands. That same joy is available for us today.

Summary: In this short passage, we witness the kingdom of God being ushered in by two pregnant women who believed, and acted upon, the promises of God. Will we recognize, and act upon, these promises in our own life?

There are 6 sermons in your results.