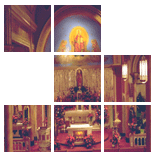 Enter Email:




Summary: Incarnation is what Christmas is all about. God took the initiative to establish room in us for him to dwell, so that we can be the people he wants us to be.

Summary: As Christmas approaches, the story of the Annunciation challenges us, as the angel Gabriel challenged Mary, to find God in unlikely places and to courageously respond in positive ways to his call.

Summary: Although many of today's Christmas observances are based in fantasy, and although even the story of the Annunciation has fantastic elements, at Christmas all of us still face the burdens and decisions of living life in the real world. Mary, in taking her first small but heroic step toward God's destiny, is a model for our faithful living in whatever real circumstances we face. When we take those steps with her, we begin to know the true dimensions of Christmas joy.

Summary: A person does not need to be able to agree with every detail doctrine to be Christian. A person does need to submit himself or herself to Christ to be a Christian

Summary: A few days before Christmas, people may be wondering if they're ready for the holiday. Real readiness is a matter of being open to receive God's gift that we celebrate that day. Mary, the young woman who first received that gift, can help us to be prepared. She is surprised by being favored by God, but willing to rely on that favor and the God who gives it.

Summary: It's a wonder and a mystery that God uses frail human flesh to communicate divine love to the world in Jesus Christ.

Summary: The apostle Paul's letter to the Romans was written to Christ-following Gentiles who had attached themselves to Jewish congregations in Rome. Paul wants them to know that the incarnation means the reign of God has dawned — and not just for them but for the whole cosmos — and that they can live in the Kingdom of God today.

There are 7 sermons in your results.