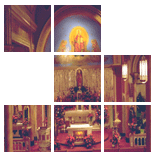 Enter Email:




Summary: Far from restricting us, God's law frees us to live life in all its fullness.

Summary: Jesus' prayer for the church in John 17 was that they might be "one." In this passage, Paul declares that the believers are "one in Christ Jesus" and that the differences that often separate us are erased in Christ. Yet many today will say we've still got a long way to go in reaching what Paul declared as fact. Fully accepting the truth of being one in Christ will change our lives and the life of the church.

Summary: If we accept the law/teaching of the Bible as a disciplinarian, we see how it helps us mature. In that maturity, we can truly become the family of God, in which all people live in harmony, with no divisions or conflict.

Summary: Jesus seeks out a man for whom life seems to have no hope. He is demon possessed, and everyone has given up on him. But Jesus shows that there is always hope and salvation in him. This was true 2,000 years ago — and it's still true today.

Summary:
When life becomes chaotic, we can find stability in God the rock. The one who created the heavens and the earth is the same one who desires to be a mighty fortress for us. And so that we can see this promise clearly, God sends Jesus to save us and hold us together.

There are 5 sermons in your results.