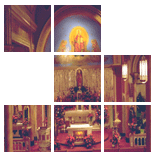 Enter Email:




Summary: Just as people on the East Coast finally got personal insight into what people on fault lines live with all the time when a 5.9 quake hit Virginia in 2011, so the apostles finally understood what it was like to live in "Bible Times" when they saw Jesus still the storm. Is it necessary for us to experience a storm-like crisis to understand that God's power is real?

Summary: Sometimes when we read the Bible's miracle stories, we miss the miracles that matter most to us -- miracles that we need, and that are within our reach.

Summary: The disciples were in fear and awe after Jesus stilled the storm, wondering who could do such a thing. The Psalms give an answer — it is the God of Israel, who stills storms and rescues from both literal and metaphorical waters. It is that God who is present in the human Jesus. This means that he is able to save us from all the storms that threaten us.

Summary: Nature has pelted us with storms over the past year. The devastation in the Gulf of Mexico changed thousands of lives and took the lives of several hundred. But life sends its own kind of storms our way all the time. When the disciples were caught in a storm on the Sea of Galilee, they were terrified, even with Jesus in the boat with them. Like us, the disciples knew Jesus, but they really didn't know Jesus. Like us, they trusted Jesus, but they really didn't put their trust in Jesus.

Summary: God has a purpose for the storms that come to us all: to reveal our weakness and God's power to save those who call upon him. Storms can distract and terrorize us, but they can also drive us to look more closely at Jesus so we can discover in his face the God upon whom we can rely.

Summary: Jesus calmed a mighty windstorm and saved his disciples from destruction. He continues to have power over chaos, and invites us to trust him to still the storms that rage inside us.

There are 6 sermons in your results.