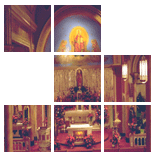 Enter Email:




Summary: Knowledge of a person isn't the same kind of thing as knowing some facts. Personal knowledge requires that the person reveal him or herself to us, and that type of knowledge of God requires divine revelation. This is what Paul means when he says that his encounter with the risen Christ was "not of human origin." It was a personal revelation of what God has done to save us in Christ, a revelation that also comes to people today in the proclamation of Christ.

Summary: Any crowd can become a sacred gathering when Jesus is there.

Summary: Pain is part of life. Although modern medicine has made great strides in treating it, a pain-free life is unimaginable. God visits us in our pain, bringing strength and consolation.

Summary: Compassion moved Jesus to ignore his society's restrictions against touching the dead. He became involved in something that he could have considered none of his business in order to provide for a widow who had no safety net. We are part of God's safety net for the suffering, the marginalized and the hopeless. We come with hope.

There are 4 sermons in your results.