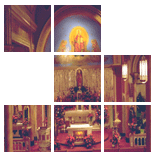 Enter Email:




Summary: God is the Rock that does not change, and as for us, when we build our life and our churches upon him, we are on solid ground. The Rock that is God shelters and steadies us and gives us a solid place to stand.

Summary: When we urge people to built their lives on good foundations, we often mean such things as a solid sense of right and wrong, a commitment to justice and honesty, a respect for others, a sense of responsibility and so forth. They are the sorts of things that help to define us as contributing members of society. But we also need to lay that foundation on a good site, one that will enable the structure of our lives to stand while storms rage. The best site is on which to build is commitment to Jesus Christ. All other ground is sinking sand.

Summary: The true Christian path is more difficult to walk than the way that gives God only lip-service, but walking it is only way to be in company with Jesus. The other path goes in the wrong direction.

There are 3 sermons in your results.