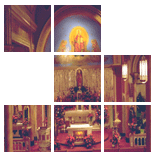 Enter Email:




Summary: Gossiping is sin. Christians need to bridle the wild horse that is the tongue. Doing so is a gift of gratitude to the God who saved us.

Summary: We each carry within us sinful impulses, and things and people outside of us can bring this darkness to the surface. Empty ritual does not prepare us for the battle with temptation but with God's help, we can heal what lies within us and gain strength to face a world that sometimes calls out the worst in us. With grace, ritual becomes a means of feeding our souls.

Summary: Not everything is as it seems to be at first sight. The Pharisees prided themselves on keeping the rules and assumed that this made them superior. Jesus, however, was not impressed by the moral measure that they used to justify themselves and to judge harshly those who failed to follow their example. His response to their arrogance gives us a framework by which we can determine our relationship with him.

Summary: James said caring for widows and orphans and comforting them in their distress is part of what makes our religion "pure and undefiled." That's as true today as when James wrote it in the first century.

Summary: What defiles us does not come from outside of us. Its origins are usually within us. This teaching of Jesus isn't about food or outdated ritual. It hits us right where we live, just as hard as it did back then.

Summary: The Pharisees of Jesus' time took the Mosaic law seriously and tried to protect it. Unfortunately, the practices of some, like those in today's gospels, led Christians to caricature all of them. Jesus' criticisms of some Pharisaic practices were a source of Christian insistence that works don't save us. That might produce a caricature of Christians who don't care about good works. But while God doesn't need our good works, our neighbor does.

Summary: The Food and Nutrition Service (FNS) strongly believes that junk food is dangerous to one's health. You don't need to be a foodie, the agency says, but you shouldn't be a junkie either. But in today's scripture reading, Jesus seems to disagree. He has a radical theory about what truly makes us sick.

There are 7 sermons in your results.