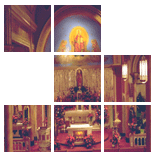 Enter Email:




Summary: This passage gives a cosmic overview of what we celebrate during Holy Week: the Christ who was one with God, and who emptied himself and became one of us, to model for us our own best humanity. This was not an exercise in divine slumming, or taking on a trial by ordeal to win a prize. This was and is a demonstration of the suffering and the exaltation that arise from being human beings fully at one with God.

Summary: All of us are walking on destiny's highway, where darkness and light are laying their claims.

Summary: The only avenue to the eternal life is through death. Holy Week commemorates how Jesus willingly chose to suffer and die so that we can receive God's gift of salvation. Jesus chose this route to show us the need to suffer, to die to self in order that others might live. Suffering with Christ eventually does lead to glory.

Summary: We should not allow the very real fact of bad religion to distract us from the good. Instead, we will take new hope and courage in the example of our Lord, who faced such evil and remained undaunted in his commitment to his Heavenly Father.

Summary: Throughout the Passion narrative, people try to categorize Jesus, and Jesus remains silent. What really matters is who each of us says Jesus is in our lives.

Summary: Jesus' entry into Jerusalem took place in a way that was unexpected and set him on the path of securing our redemption. In the same way, we will experience God's action in unexpected ways, all in keeping with God's great plan for our lives.

Summary: Our favorite hymns not only speak our faith but are also memory aids. In his letter to the Philippians, the apostle Paul includes a Christ hymn to help them remember that God not only took human form but also adopted the outlook of a slave to descend into misery and then was elevated to the highest height.

There are 7 sermons in your results.