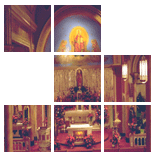 Enter Email:



Summary: Any crowd can become a sacred gathering when Jesus is there.

Summary: Compassion moved Jesus to ignore his society's restrictions against touching the dead. He became involved in something that he could have considered none of his business in order to provide for a widow who had no safety net. We are part of God's safety net for the suffering, the marginalized and the hopeless. We come with hope.

There are 2 sermons in your results.