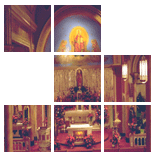 Enter Email:




Summary: Jesus uses a meal to teach about humility and service. We find our true value and validation in the resurrection, not the ways we seek prestige now. The joy and healing of the resurrection free us to serve and love others, especially those who need it most.

Summary: Jesus turns the world upside down. He says that those who exalt themselves will not end up that way. They, in one way or another, will be humbled. On the other hand, Jesus said that the person who humbles himself will be exalted. One thinks of St. Francis of Assisi, of Mother Teresa, of the Netherlands' saint, Corrie Ten Boom. We hail them for their loving contributions to the world and especially the church. Their pattern for living should also be ours as well.

Summary: Jesus challenges us to reach beyond our comfort zones, beyond our naturally forming groups, and honor those in our midst who are needy and poor.

Summary: Jesus' advice about where to sit at a banquet and who to invite to your parties teaches us about true humility that shows up in the frequent and familiar things of life. It also leads to generous actions for which we expect nothing in return.

Summary: We cannot confer honor upon ourselves; all we can do is accept the honor that God has already given us.

Summary: Whom we don't invite can be just as telling as whom we do invite to our homes, our church and ultimately to the wedding feast of the Lamb. The thing is, this is not our banquet. It's the Lamb's, who bears the marks of slaughter. Jesus died for everyone, not just us. We are not gatekeepers, but servants of the Most High God.

There are 6 sermons in your results.