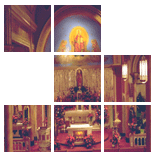 Enter Email:




Summary: The Christmas pageant is as familiar to most of us as any memory we can bring to mind. And yet, have we really considered what makes this pageant such an insistent part of our lives? Have we given second thought to the characters, the scenes, and the audience?

Summary: This majestic opening passage of John seems otherworldly. But we need to understand that it is the opposite of that. These soaring cadences ground the early disciples' witness firmly in the everyday understandings of John's day. In our day, we can receive inspiration from this passage for grounding our own witness in today's understandings.

Summary: Even on Christmas, we experience the darkness of creation. That darkness affects every aspect of our lives, including our own hearts and the church. Nevertheless, we proclaim John's promise that the darkness cannot put out the light.

Summary: John's message that the Word became flesh matters to us because God has identified with our human weakness, made a commitment to us and stands in solidarity with the ways the world harms our bodies.

There are 4 sermons in your results.