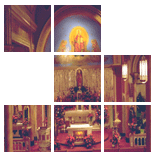 Enter Email:




Summary: On the anniversary of 9/11, we can remember the heroism of that tragic day, and join in future efforts to seek and save the lost.

Summary: There are three main characters in this story, which is a story about "church" as much as anything else: a "father," a "prodigal son" and an "elder brother." With which character are we identified? With which character shall we identify, as the church moves into an ever more uncertain future?

Summary: Becoming a parent makes one vulnerable to pain as rebellion, problems or hurt befall one's children. The same is true for God, our Father. But that vulnerability factor also makes him ready to welcome us home, tell us he loves us, tell us he forgives us and tell us that supper is ready.

Summary: God actively seeks us, and we cannot know full peace and joy until we allow ourselves to be apprehended by him.

Summary: This parable, traditionally known as the Parable of the Prodigal Son, is really about three characters. We can all identify with two of them. We need to identify with the third.

Summary: The church is a community of the lost who have been found. We are called in turn to be the messengers of good news to those who are still lost.

Summary: Things and people who are lost have some value in and of themselves, but greater value because of the one to whom to they belong. Today's Gospel reminds us of the value we have in God's eyes, even when we are have turned from him. We are also challenged not to let others be lost to us.

Summary: When the prodigal son returned home, it may not have been an act of repentance, but a ploy to get back in his father's good graces. His father probably was not fooled, but he lovingly welcomed the prodigal home anyway. God is like that, welcoming us to come be part of the family without first demanding our repentance. He invites us to the party in the hope that we will want to stay

There are 8 sermons in your results.