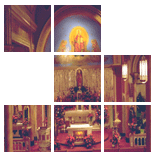 Enter Email:




Summary: The ancient prophet, Jeremiah, was sure that a great day was coming. Easter underlines the eternal reality of Jeremiah's vision.

Summary: The vision that Jeremiah proclaimed invites us to reclaim our identity as God's people and step into a new future.

Summary: Jesus saw the fulfillment of his call in the visit of Greek seekers; they remind us of the size of our world, under God's love.

Summary: No theological statement or theory can adequately explain the meaning of Christ's death on the cross. Nonetheless, he said that when he was "lifted up," crucified, he would draw people to him. That has been the case through the centuries. Many are attracted to Jesus the crucified Lord, and changed forever by coming to the cross.

Summary: Jesus, despite his human fear, had no intention of stepping aside from the onrushing events that would lead to his death but also to the glorification of God. That's why he came. We, the body of Christ, are also here for the glorification of God. But are we stepping out of the way of events to avoid both cross and glory?

Summary: Jesus uses the cross, an instrument of torture and death, to draw people to eternal life. In the Christian faith, it is often true that opposites attract.

Summary: According to Israel's tradition, Jesus, from the tribe of Judah, couldn't have been a priest. But our text is about his preparation to be a high priest "according to the order of Melchizedek," as the preceding verses make clear. Through the trials and challenges of his ministry, he was able to make the perfect and final sacrifice, giving up his own life and rising again to reconcile sinners to God.

There are 7 sermons in your results.