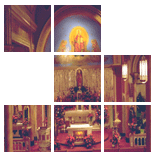 Enter Email:




Summary: Just as the Spirit led Jesus into the wilderness to confront the evil forces, so the Spirit leads the church into the wilderness of the world's evil. Jesus' temptations were appetite, prestige and security. Jesus conquered these temptations. The church faces the temptations of appetite, prestige and security as distractions from the ministry to which it is called.

Summary: Whenever we choose God's will and God's direction, we will find that we are rewarded in many ways. No fidelity to God and his commandments goes unrewarded.

Summary: Jesus' temptation in the wilderness models for his followers a faithful obedience rooted in God's mission and fueled by a knowledge of the Scriptures.

Summary: Just as Jesus was tempted in the wilderness to give up his mission, so Satan will tempt us to quit. What we need is the vision to give God a chance and defeat the enemy at his own game.

Summary: God can use temptations as a test, to prove and strengthen us.

Summary: Lent is a season to remember the story of God's faithfulness to us.

There are 6 sermons in your results.