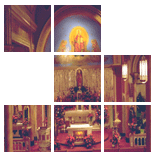 Enter Email:




Summary: To suggest that God takes sides is to diminish God and enslave ourselves. But regardless of the kind of slavery that might bind us, God offers us a way out of death and into life. He brought the Hebrews out of Egypt and through Jesus, he brings us out of the ways that bind us.

Summary: Whether it's called Communion, the Mass, Eucharist, the Agape or the Love Feast, Jesus shared it with his disciples in love. As disciples of Jesus today, we must never lose sight of the love that is at the center of our gathering, love for Jesus, love of Jesus, love for each other.

Summary: Because we humans forget so easily, and because remembering is so important to our faith, God has given us three means of remembering, all associated with Communion.

Summary: Paul told the Corinthian Christians, "As often as you eat this bread and drink the cup, you proclaim the Lord's death until he comes." That is responsibility and our blessing.

Summary: The death of the Egyptians and the death of Jesus remain mysteries we cannot fully understand. Both led to freedom for others. Christians claim the freedom from the trap of time, from the ways the world seeks to define us and from the impediments to showing love.

Summary: The original Passover meal came about with almost no warning, yet it was extraordinarily significant. An equally significant moment arrived when the Passover celebrated by Jesus and his disciples underwent a radical redefinition as the Last Supper and became the first celebration of communion. Keep your eyes open. God may direct you to change the definition of your next meal — at home, in the restaurant, out and about — into a meal of fellowship and ministry.

Summary: Humble service is at the heart of Christian discipleship.

There are 7 sermons in your results.