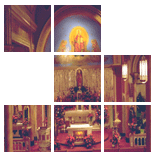 Enter Email:




Summary: Jesus, the One whose death we commemorate today, is not often spoken of as a scandal. But indeed he was just that. He was killed on a cross because he was a scandal to many. The scandal was that he was far too human for those who had already determined that this was unacceptable in a Messiah. The words that Jesus spoke, the things that he said and even his hometown were a scandal to those who would not accept him. But today is hardly any different. For many, the scandalous Jesus has been replaced by a plastic Jesus, whom no one would want to crucify. So what is the two-fold challenge stemming from the scandal of Jesus?

Summary: God is a master engineer whose plan demands a great cost. The well-designed system of salvation that was implemented on Good Friday is one that is not easy to comprehend. Still, it is a system that gives us abundant life for today and for all eternity.

Summary: Pontius Pilate's question, What is truth? is answered by Jesus' silence. Jesus shows us that we access truth, not with words, but with life — his life. Truth is not something that we can lay claim to; truth lays claim to us. Through living Jesus' life we are taken up into truth.

Summary: It is not always obvious who is in control of events. People who think only in terms of political, military and economic power will see Pilate and Caiaphas as the ones in control of Jesus' arrest and execution. Religious people will say that God was in control. There is some truth in both views but the writer of the Fourth Gospel has presented the Passion in a way that brings out a surprising truth: It is God present in the man Jesus who is arrested, convicted and crucified who is ultimately the one in charge.

Summary: Today is Good Friday because Jesus died to save us.

Summary: Both on Good Friday and during the exile, what looked like total defeat became a stage for God to do redeeming work.

Summary: Of all the gospels, John's is the most descriptive regarding Jesus' suffering during the Passion. When Jesus announces that "it is finished," he speaks those words in relief and faith in what God does in the Cross. After Jesus' death, the blood and water that come from Jesus' side represent God's grace from a desolate situation.

There are 7 sermons in your results.