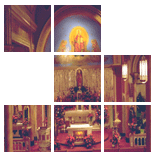 Enter Email:




Summary: As Jesus prepares his disciples for his death and resurrection, his glorification, he gives them a new commandment: to love one another as he loved them. This new commandment should be the normal mark of every Christian today.

Summary: Even as we celebrate the joy of Christ's resurrection and the reawakening of the earth in spring, there may be among us people who are experiencing a wintry form of spirituality — one in which the absence of God and the absence of loved ones is felt sharply and desperately. In preparing his disciples for his own absence, Jesus speaks a commandment to love one another and to cling to that love.

Summary: In the last hours of his life, Jesus calls us to become something beyond what the world considers successful or even practical. Rather than calling us to a list of rules, he calls us to become something that can only happen with practice -- loving one another. But once practiced, it can become second nature.

Summary: Jesus challenges his followers to make a radical vision of love the basis for their lives, the life of the church and the hope of the world.

Summary: Only by a relentless focus on the present can we bring about real change in our lives.

Summary: Revelation is often associated with destruction, doom and damnation. But the book ends with the promise of a new relationship with God, one that is both intimate and eternal, in which people live in harmony with God's creation.

Summary: Loving others is a choice we must continually make.

There are 7 sermons in your results.