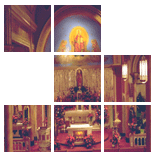 Enter Email:




Summary: Contemporary science offers fresh metaphors for understanding what it means to "abide in the vine" and what practices help to make it happen.

Summary: Learning to think and make decisions like Jesus did requires us to understand what Jesus was asking us to do when he said, "Abide in me." That comforting statement could send us to uncomfortable places.

Summary: In our text, Jesus speaks the truth about the Christian life, individually and corporately. He does not gloss over the difficulties of such life or offer an escape of any kind. What he does offer is presence in the midst of all circumstances and the life-giving, if sometimes pain-inducing, love of God.

Summary: If we are followers of Christ, God expects us to stay connected to Jesus "the vine" so that we can continue to bear fruit for the kingdom. This fruit includes the fruit of the Spirit, the exercise of spiritual gifts and vibrant worship. If these things are deficient in some way, the Heavenly Gardener will find the fruitless-but-draining offshoots in our lives and prune them away.

Summary: John 15:1-8 is often used to justify — or, conversely, to scoff at — I-want-a-bicycle religion. But these verses actually declare such religion to be unworthy of true discipleship. They point to the total life commitment that discipleship demands, which is nothing short of aligning our will with that of Jesus.

Summary: As followers of Jesus, we are meant to bear "fruit." The metaphor of the grapevine tells us that we are meant to do that together.

Summary: Using metaphorical language, Jesus describes himself as the true vine and God as the vine dresser. And he insists that his followers stay connected to the vine so they can produce good fruit. What this requires is pruning away whatever gets in the way of that vital task.

There are 7 sermons in your results.