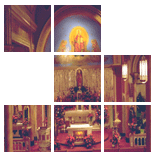 Enter Email:




Summary: A crowd gathered after a man lame from birth was healed by Peter and John. It gave them an opportunity to preach. Peter deflected attention from the apostles themselves and called attention to what God had done through Jesus. God had glorified him through his cross and resurrection and brought about the possibility of new life in communion with God. The physical healing of the lame man, while it was not the thing that Peter emphasized, shows that the new life God intends is for the whole person.

Summary: For most of us, being a faithful witness doesn't mean buttonholing strangers or holding prayer meetings at work. It does mean that when another person has opened up his or her life and invited us in, we be willing to tell about the Lord who means so much to us.

Summary: The Easter story doesn't end on Easter Sunday; it just begins! That's why the church calendar speaks of the second, third, and fourth -- and continuing -- Sundays of Easter. Because Easter isn't a day to celebrate and forget; it is a day that has changed everything. And we are its witnesses.

Summary: Jesus' resurrection is not merely a story of hope for the future nor something too good to have true impact on our lives today. It is a commission to participate in God's plan of salvation. In light of Jesus' resurrection, his church is called to mission. If Jesus is alive today, we can surrender all of our foibles, infirmities, sins, gifts, talents and ambitions to God and allow God to raise us to a new life in which we begin to embody Jesus' values and reflect his character to the world around us, which so desperately needs voices of hope and light.

Summary: The risen Christ invites you to reach out and touch him.

Summary: Life is complicated. Our tumultuous world and ever-changing circumstances can leave us drained and weary. Unexpected events take place that frighten us and challenge our world understanding. Even positive changes can leave us unsettled or uncertain. Into this chaotic upset, Jesus offers peace that passes our limited understanding, along with a glimpse of God in our midst.

Summary: Just before his ascension Jesus had some last words for his disciples. One statement, "You are witnesses of these things," had special significance for the disciples, and it has special significance for disciples today. Being a witness is not optional. We ARE witnesses; we need to consider how we bear witness to the Resurrection.

There are 7 sermons in your results.