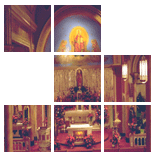 Enter Email:




Summary: Jesus calls us to him and then sends us forth to serve. The meaning of that service may be found in the words, "Feed my sheep."

Summary: In this first-person narrative, Peter tells us that Jesus' resurrection changed everything. That means that we who follow Jesus are Easter people. It means we give up to Jesus our guilt over past failures. It means we must love one another and shape our lives according to Jesus' life. His resurrection means that he has defeated death and thus does not leave us without his help as we follow him.

Summary: Reading a difficult text like Revelation provides an antidote to the consumeristic lifestyle that we lead and allows us to know — and trust — that God's love is real.

Summary: Peter's shame and guilt over his denial of Jesus on the eve of the Crucifixion became "unfinished business" between him and the resurrected Jesus. But without even waiting for Peter to apologize, Jesus gave Peter an opportunity to reaffirm his love. When Peter had done that, Jesus pointed him toward the new business of shepherding the growing Christian flock. Similarly, Jesus helps us clear up old business that hangs between our self and others, and between our self and him, so that we can move into the future where he wants us to be.

Summary: Some books end with an epilogue, an additional chapter that tells us what happened to the characters in the story and ties up a few loose ends. When, years later, the evangelist John added an extra chapter to his gospel, it was with the intent of clearing up whom we serve, to whom we're sent and how far we should be ready to go to live the Good News of Jesus.

Summary: When we are devoted to our work, our jobs are central and we end up exhausted. But devotion to Christ's sheep? This focus keeps Jesus at the center and gives us a life worth living.

Summary: This text consists of two hymns of praise to the Lamb, Christ and God by the heavenly hosts, but no reason for these praises is given. If we put these hymns in the context of the whole of Revelation, we see that the Lamb will open the scroll that reveals God's "game plan" for the world, a plan that ends with the defeat of evil and the heavenly city coming down to earth.

There are 7 sermons in your results.