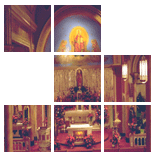 Enter Email:




Summary: We best prepare to celebrate the Eucharist by extending what Jesus taught into our own times, our own lives and our own society.

Summary: When we think of learning the truth of the Eucharist, most churchgoers in the United States do not look to East African laity. However, the Masai people in East Africa offer us much food for thought concerning the Eucharistic Food we share. The challenge of their behavior calls us out of any division to which we may be inclined. The Eucharist simply does not fit with division. Their insistence on walking the walk of Eucharistic truth not only surprised the missionary who went to them, but it gives all of us reason to pause at our own altars.

Summary: Transubstantiation, the Real Presence, the Eucharist, the Source and Summit, any way you say it, the Lord's Supper is truly Jesus present among us.

Summary: There is a hunger deep in every human being that cannot be filled with food. It is what Bushman storytellers refer to as the Great Hunger. No one knew better how to fill this hunger than Jesus, so with his life and teaching, he showed us how, and then at the Last Supper he gave himself to us as spiritual food. As we celebrate the feast of Corpus Christi, we are invited to reflect on why he did this and how we might more fully respond to this gift of the Eucharist.

Summary: Everything is out in the open in the consecration of the bread and wine, yet the real thing that is happening is largely unseen, or rather, seen most clearly with the eyes of faith. It all happens in the real world, yet we are drawn into the eternal. Seen and unseen — see the bread, see the cup, behold the Lamb of God.

Summary: The Feast of the Body and Blood of Jesus lifts high the work of Christ as we remember and participate with thanks. The Eucharist is celebrated at every mass. But it is remembered and lifted up for special consideration on this day.

There are 6 sermons in your results.