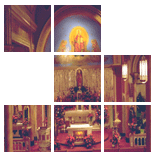 Enter Email:




Summary: Praying for hungry people is one thing, but doing something to be God's answer to our prayer makes our prayer complete. When the disciples told Jesus about the hungry crowd, Jesus said, "Then get them some food yourselves!" In light of the world of haves and have-nots, Jesus may well be telling us that same thing.

Summary: The celebration of the ancient feast of Corpus Christi reminds us of the greatness of our Christian tradition. Jesus fed those he encountered with the Bread of Life, but he also provided the word and the Spirit to lead and assist us on the path to eternal life. As Jesus feeds us so we are called as God's holy people to feed others through the donation of our time, talent and treasure to meet the many and varied needs of our sisters and brothers in Christ.

Summary: The story of the multiplication of the loaves and the fish is as much about lessons to be learned as it is a miracle to be marveled. It is not only an assurance that God still feeds us, but also our call as members of the body of Christ to feed others. The body of Christ in the Eucharist does not stand apart from his body in the world.

Summary: Though the overwhelming numbers of hungry people in the world may leave us feeling powerless to help, we have more power to make a difference in a hungry world than we might think.

Summary: On this day, we remember the institution of that Blessed Sacrament by which Jesus feeds us. In this passage, we are shown that Jesus feeds us so that we may feed the crowd — the world that comes to his door seeking salvation, healing and wholeness.

Summary: Receiving the Eucharist feeds us spiritually. Living the Eucharist leads us to feed the poor. Just as our Lord fed the multitudes who had come out to receive his words, so St. Oscar Romero fed the deep hunger for freedom and justice of the Salvadoran people, which led to his martyrdom as he lifted the Host on high. As the body of Christ, we too should serve.

There are 6 sermons in your results.