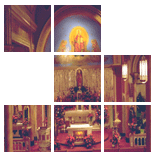 Enter Email:



Summary: What we are offered tonight is not the kind of gift that makes no demands upon us. We are offered the opportunity to begin a lifelong process of training ourselves for freedom, of freeing ourselves of the attitudes that enslave us.

Summary: The familiar Christmas story of Joseph and Mary going to register in Bethlehem presents the affirmation that God chooses the powerless to bring a blessing to the world. God not only cares about the down-and-out, but works through them to give the Messiah to the world.

There are 2 sermons in your results.