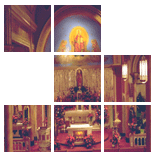 Enter Email:



Summary: The question is not whether angels are real, but whether we embrace what they represent: the reality and goodness of the inner life where we meet God day after day.

Summary: We easily speak about good news of great joy at Christmastime — but it's not that for everyone. Many find Christmas a very hard time of the year. How can we help communicate the good news and make it real?

There are 2 sermons in your results.