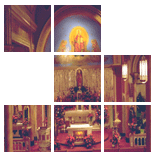 Enter Email:



Summary: The voice of encouragement that spoke to Jesus at his baptism is the same voice speaking to us. Let us speak to each other the same way.

Summary: The baptism of Jesus reveals and celebrates the unique identity of the Son of God, as well as the meaning of baptism for those who follow him.

Summary: In our baptism, God affirms us as his chosen children, in whom he is well pleased. When we know who we are — sinners saved by grace — and know whose we are — children of God created to glorify God — then life can never be the same. Fears and problems may abound, but we can remain true and strong.

Summary: In the movies, many characters learn about themselves by learning about a parent. In baptism, we too learn who we are by knowing whose we are.

Summary: Fullness of life is not found in fame, business success and physical strength. Instead, it comes from being a baptized servant of the Son of God.

There are 5 sermons in your results.