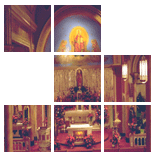 Enter Email:




Summary: The voice of encouragement that spoke to Jesus at his baptism is the same voice speaking to us. Let us speak to each other the same way.

Summary: The baptism of Jesus reveals and celebrates the unique identity of the Son of God, as well as the meaning of baptism for those who follow him.

Summary: In our baptism, God affirms us as his chosen children, in whom he is well pleased. When we know who we are — sinners saved by grace — and know whose we are — children of God created to glorify God — then life can never be the same. Fears and problems may abound, but we can remain true and strong.

Summary: In the movies, many characters learn about themselves by learning about a parent. In baptism, we too learn who we are by knowing whose we are.

Summary: Fullness of life is not found in fame, business success and physical strength. Instead, it comes from being a baptized servant of the Son of God.

Summary: It seems at first that Luke downplays the fact that Jesus received a baptism of repentance for sins. Christians zealous to defend Christ's divinity haven't always stressed his genuine humanity strongly enough. But the Bible is clear about him sharing our vulnerability and suffering, and his fellowship with sinners. In reality, Luke doesn't downplay Jesus' baptism but emphasizes that the sinless Jesus was baptized with sinners as part of his saving work. We're invited now to reflect on who Jesus is for us today.

There are 6 sermons in your results.