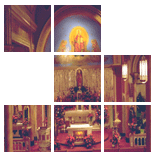 Enter Email:



Summary: Christ was baptized not because he was a sinner but to show his commitment to live righteously as God's Son and to identify with those who are in need of repentance and baptism. That, of course, includes us all.

Summary: John the Baptist proclaims that, in Jesus Christ, God has saved the best for last.

Summary: Baptism has both short-term and long-term benefits for believers, even today.

There are 3 sermons in your results.