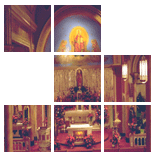 Enter Email:




Summary: Even though Jesus cautions his followers to avoid self-serving visual demonstrations of faith, the practice of bearing the mark of the cross on Ash Wednesday can still be a meaningful and appropriate way to bear witness to the meaning of our faith

Summary: Our reasons for serving God and doing good deeds may be mixed — a desire to please God coupled with a desire to look good for doing so. But we should not wait until our motives are pure to do what is right. We should follow Jesus right away, mixed motives and all.

Summary: The genius of Ash Wednesday is that we can't make something grand and hopeful unless we start with some ashes. We have to work with some ashes -- all that has gone before us in life. But nature uses ashes to restore the soil. Repentance is the spiritual quality that ashes represent. When we confess to God that we are not all we ought to be, we are laying the bed of ashes in which our souls can grow.

Summary: Ash Wednesday invites us to remember not only that we must die, but that Jesus also calls us to live — abundantly, authentically and lovingly.

Summary: The ability to practice quiet piety depends upon our trust in our heavenly Father to reward us. Without that trust, we will seek the world's praise instead of God's approval. Spiritual disciplines require that we walk by faith, not by sight, waiting for God's reward.

Summary: The ashes with which we're marked at the start of Lent are a sign that we're Christ's very human ambassadors and that God's reign, or kingdom, which we represent, is right at hand today.

There are 6 sermons in your results.