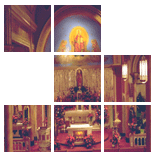 Enter Email:




Summary: The Trinity is often considered a difficult concept, but it can be seen as an expression of the biblical claim that God is love. That love extends "outward" in God's free decision to create a world. Even sin is not able to thwart God's intention that creation should share in the giving and receiving that characterizes the divine life.

Summary: The Trinity is an accepted and integral part of the Christian faith. While not mentioned by name, it is supported and pointed to throughout scripture. Beyond that, the Trinity brings distinct benefits for the believer.

Summary: The doctrine of the Trinity is a reality that believers have known since Jesus taught his disciples the night before his crucifixion. No wonder we had to find a name for it!

Summary: The Trinity stands as the great mystery of God's character and identity; it continues to challenge us to understand its significance and embrace its power.

Summary: The Trinity is an important doctrine of the church because it reveals the very essence of God. It is at the heart of the Gospel, and it shows us a God who can transform us into a new creation.

Summary: The Spirit is the very glue that holds the Trinity together and the one who gives us our mission.

There are 6 sermons in your results.