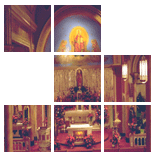 Enter Email:




Summary: To follow Jesus is to step into an unknown in which the only certainty is uncertainty. This is true even now, 21 centuries after the encounters we hear about in these passages. Nevertheless, Jesus' call to us is just as urgent now as it was then, and the obstacles we put in our own way are just as real.

Summary: It is the combination of our initial commitments to God coupled with frequent ongoing contact with him that helps us know how to live and how to behave in the difficult situations of life.

Summary: Even in the pleasant days of summer, we ought to make commitments that are good for every season.

Summary: God calls Christians to freedom. That freedom is found not in self-indulgence, nor in an endless, desperate search for satisfaction. True freedom is found in sacrificial love, by which we freely choose to serve one another, becoming slaves to one another for Christ's sake.

Summary: Following Jesus is a tough journey, requiring us to respond to rejection with love, while sacrificing comfort and security. But the end of the road is new and everlasting life.

Summary: Following Jesus isn't an easy task. It involves leaving what you know behind and taking a big risk in life. Taking risks sometimes means letting go of control, but usually when you do that, the reward is great. We are invited into something big and meaningful, and it changes us for the better.

Summary:
Having told his disciples for the second time what would happen to him in Jerusalem, Jesus sets his face decisively for that city. We're told about three people who want to follow Jesus "but" — but want to put their own conditions on discipleship. As he is starting out with the Twelve, Jesus has to rebuke two of them who want to punish a city that refused to receive him. Those two extremes, of halfway commitment and fanaticism, are to be distinguished from a total commitment to follow the way of Jesus.

There are 7 sermons in your results.