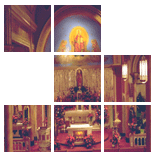 Enter Email:




Summary: It's not the size of our faith that matters, but the awesome power of the object of our faith, namely, our Father in heaven. The mountain will move because of the power of God -- not because of the depth or complexity of our belief. Along with a simple faith, our expectations should also be simple, especially in regard to our reward for faithful service. God will exalt those who have first humbled themselves.

Summary: Though we claim to serve an awesome and all-powerful God, we are quick to define tightly what we are able to do instead of what we will do in God's service. With mustard-seed sized faith, we can be open to God's power within us, instead of insisting on remaining specialists in God's service.

Summary: All of us are called to be servants for Jesus Christ. While masters typically do not associate with their servants, our master Jesus Christ does. Jesus wants to be in relationship with us. He wants to live and eat with us. This is proved most clearly through the sacrament of Holy Communion.

Summary: It's not a question of having enough faith; it's trusting God to energize the faith we already have.

Summary: If we make Christ our goal in life and pour our energy into becoming like him, we will have found our miracle. And the miracle will be us.

Summary: The church that is the body of Christ does not grow one brick at a time. Christ's church grows one baptism at a time, one confirmation at a time, one new member at a time. The body of Christ grows as faith grows, and as long as we continue to trust the Holy Spirit, we will see that sort of slow, deliberate, persistent growth.

Summary: Our efforts are bricks in a wall. Nothing spectacular in themselves. But when combined with the efforts of other faithful people, the results are impressive.

Summary:
Faith is an elusive, sought-after commodity of the Christian life. Putting our faith to work makes it stronger and makes the world a better place.

There are 8 sermons in your results.