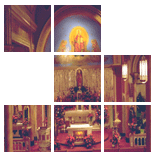 Enter Email:




Summary: Following Jesus sometimes requires us to behave in radically different ways from how we might if we were not his disciples. He makes that point with powerful language and memorable images.

Summary: When the apostle John catches others healing others in the name of Jesus, he tries to put a stop to it, but Jesus will have none of it. We are on the same side. God's audacious aim is to save the whole world. Therefore, whoever is not against us is for us. Isn't it just like God to be merciful and hopeful about everyone? Including us.

Summary: In response to the attempt by his disciples to stop a man from casting out demons in his name, Jesus teaches the necessity of embracing and empowering outsiders to the community to become insiders. The essence of discipleship involves not the control of others, but following Jesus' model of including all who seek to follow him.

Summary: For dealing with things that keep us out of the kingdom of God, sometimes the best solution is to cut them out.

Summary: Jesus challenges his disciples' narrow vision concerning what is for and what is against the Gospel. In life, functions such as medicine, law, education and other things that do not actively oppose the Christian faith actually support it.

Summary: In trying to decide how to respond to Jesus' acts for our salvation, we learn from the "unchurched" exorcist that fighting evil forms part of discipleship. Jesus affirms any effort to fight evil, but pushes disciples to pursue the values of the kingdom, even at risk. The joy of the kingdom will compensate for any sacrifice we make.

Summary: There are people who do not claim the Christian faith who nonetheless work for the Lord. We should be attentive to the possibility of the Spirit's presence as we dialogue with others.

There are 7 sermons in your results.