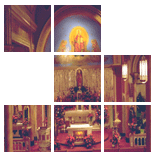 Enter Email:




Summary: Jesus used an ordinary staple of life, bread, to illustrate the eternally satisfying nature of a dynamic relationship with him. God wants a relationship with us based on who He is, not necessarily on what he can do for us. We consume food to sustain our bodies, but only Jesus can satisfy the soul.

Summary: We live in a changing world, but when we read Paul's counsel for the Ephesians, we realize that the most important things don't change.

Summary: The life of faith is not just a matter of awe and reverence for God and Jesus and the Holy Trinity; nor is it only a matter of having the correct answers to theological questions. The life of faith, Paul tells us, calls us to do the hard work of imitating God.

Summary: Much of what Jesus said in his ministry provoked more murmuring than acceptance. This was true when he proclaimed that he is the bread that has come down from heaven. We are left with the choice to join those who murmur in the face of this truth or to accept his invitation to feed on his Word and sacrament.

Summary: In a world that focuses on how we feed our bodies, Jesus invites us to nourish our spirits. We are invited to receive the bread of life.

Summary: When we've got a puzzle to solve, there comes a wonderful moment when suddenly we get it! In the Gospel of John, Jesus uses plain language to speak about who he is and what we are to become. Not everybody gets it. At first. But there is something wonderful waiting for us if we take the time for our spiritual eyes to focus on the one who declared, "I am the bread of life."

Summary: Jesus was rejected by some and misunderstood by many. He lived among us to bring salvation to a world that desperately needed it. He was no ordinary man, but he was just what the world needed and continues to need.

There are 7 sermons in your results.