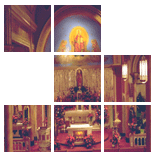 Enter Email:




Summary: Without qualification, Jesus healed. His healing always changed lives. Jesus still heals today. In the story of the 10 lepers, we are reminded that Jesus' healing can change lives dramatically and that his healing ministry is now in the hands of the church.

Summary: The 10 lepers were separated from society not only physically, but emotionally and socially as well. Jesus bridged all those distances, making the lepers well and giving them the opportunity to acknowledge the power of God. Unfortunately, only one of those healed recognized how close God had come to him. We too, live in the presence of a God who is at once both far beyond us and nearer than our own skin. Because of that, we have unprecedented access to God through Jesus Christ.

Summary: Gratitude to God is not only the proper response for his gifts to us; it is also the response that helps us receive wholeness.

Summary: We ask God for help of various kinds but often forget to give thanks when we receive what we asked for. Our text shows us 10 men who asked Jesus for healing and got it, but only one of them returned to Jesus to thank him. Jesus commends him for his faith because real thanks to God is an expression of faith, of trust that God will provide all that we need.

Summary: While the obvious (and oft-repeated) lesson from Jesus' encounter with the 10 lepers centers on giving thanks, there is more to this than the obvious. In the context of the disciple's request, "Lord, increase our faith" (Luke 17:5), Jesus not only answers about "mustard-seed faith" but he also dramatically illustrates faith when he heals the lepers. One, a Samaritan, returns to thank Jesus, and Jesus declares, "Your faith has made you well." We too can respond in faith when Jesus says "Go ..."

Summary: When we fail to give thanks, we find ourselves unsatisfied and wanting more. But an attitude of gratitude can make us well.

Summary: God keeps promises, but they are kept on God's time, not ours, and may be fulfilled in unexpected ways.

Summary:
Grace is freely given even when gratitude is not obviously shown. Gratitude is a response to grace and may not be immediate or ostentatious. More often than not, we may not be aware of gratitude shown for grace that is freely given.

There are 8 sermons in your results.