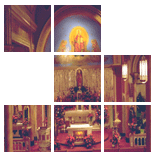 Enter Email:




Summary: Jesus welcomes children: both literal children and the inner child in all of us.

Summary: When we consider Jesus' teaching on divorce, we walk a line between respecting the authority of scripture and acknowledging the pain of a destructive relationship. Our contemporary understanding of marriage differs from the understanding in Jesus' day. From Jesus' other teachings, we can affirm that marriage is for people, not people for marriage. The promise of the kingdom of God offers grace, both now and in the future, for those damaged by a relationship.

Summary: We are always looking for a rationale to justify why a particular rule does not apply to us in our given situation. But if moral guidelines and the ethical teachings of scripture do not work in difficult cases, then they have no value at all. In the gospel story for today, Jesus twice reminds his audience -- and us -- about the rule behind an exception, and thereby gives a valuable corrective in matters of faith and ethics.

Summary: Divorce is an intensely emotional issue which often places a burden on people that they cannot easily carry. Jesus was as compassionate about those who suffered from divorce as he was about those who were hurting for other reasons. He made it clear that people "on the outside" were not to interfere with a marriage's natural growth. On the other hand, there are some God-honoring things we can do to help the husbands and wives in our community stay together.

Summary: When discussing the nature and the purpose of marriage, the meaning, the wonder and the power of marriage are often missed. When God brings a couple together it is by way of an assignment to learn and to teach love.

Summary: The value of a human being is more than what he or she can do. We are called to treat all as people of infinite worth in the kingdom of God.

Summary: We live in a world where divorce is common. For many married couples, it seems like divorce is just a misstep away. We hear things like "falling out of love" and "the spark is gone" and the next thing you know, the couple is divorced. How should we look at marriage? What is God's will in all of this? And what about the kids?

There are 7 sermons in your results.