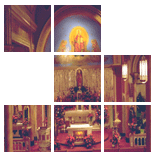 Enter Email:




Summary: Christianity sells, as bookstore merchandise and gospel music sales show. It's also possible to embrace faith in ways that treat it as a beneficial commodity. Christianity sells, of that there is no doubt. The question is whether we are buying it simply to adorn our living or whether we are buying it as a gift for others.

Summary: In this text, which contains the first "I am" speech of Jesus in the gospel of John, Jesus offers not merely physical sustenance but ongoing spiritual nourishment for those who receive the gifts he offers and believe that he is indeed the one sent by God for the redemption of the world.

Summary: "Manna" means "What is it?" The people in John 6, referring to the miraculous loaves and fishes, ask Jesus, "Where is it?" They had originally come to hear Jesus speak, but forgot his words after being distracted by the food. Are we so distracted by ritual and symbols that we forget the reality of Jesus and his Word that lie behind them?

Summary: The bread of the sacrament is for you — because you are worth it. You are worth it because the host at this banquet says you are. He has died for all our sins — and he has invited us, personally, to partake of this bread that endures.

Summary: This passage seems to contradict much of what Jesus says or implies in other places. He seems to deny or contradict outright what the activists among us want to emphasize: He says here that simply to believe is sufficient. What about the "sheep" in Matthew 25, who put meeting real human needs ahead of mere belief and in so doing gain entrance to the kingdom, while the "goats" are sent away empty? What about the blessings upon the poor and the warnings of severe judgment for the rich and well fed that we get from Jesus in other gospels? This passage provides some necessary perspective.

Summary: As in other places in scripture, John draws a connection between food and faith. Jesus came as the bread of life, who feeds our spiritual hunger. One way to respond is to heal our relationship to physical food.

There are 6 sermons in your results.