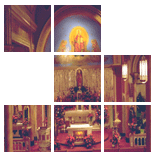 Enter Email:



Summary: The kingdom of God is as up to date as the current political scene, but it is a slow, generally unspectacular miracle, one in which we work with God.

Summary: When we dare to plant a seed in faith, God will bless the growth in surprising and unexpected ways.

Summary: Although we cannot expect an end to evil in the world, not even through the ministry of the church, we do our ministry in hope, trusting that God will use it in the redemption of creation represented by the harvest in the parable of the growing seed.

Summary: We are confident that we have access to something greater than the body, in this life, even though the body and physical reality are really all we can see and really know, because "… we walk by faith, not by sight." Faith is a walk, not just something we claim to see. We claim life beyond physical reality by way of how we walk while in the body.

There are 4 sermons in your results.