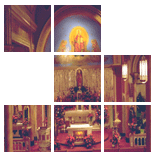 Enter Email:




Summary: In this time between Jesus' departure and the end, we are to be watchful, for both danger and the opportunity to do good, and to serve God and neighbor in our daily work.

Summary: For something as cosmic as the return of Jesus, you'd better be alert — but keep in mind that the biblical meaning of watchfulness is working for the kingdom. So remain watchful. Besides, if we're not looking, we might even miss something as obvious as Christmas.

Summary: By focusing our attention on feelings evoked by the hope of the second coming of Jesus, we are able to understand the longings felt by those who waited for the first Advent. Discovering these feelings will help us celebrate the Advent season in a deeper, and more profound way.

Summary: There are at least three understandings of "keeping awake," as Jesus and his disciples would have understood it — waiting, watching and tending the fire. All three apply to Advent and have implications for us today.

There are 4 sermons in your results.