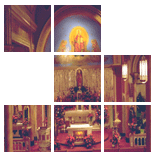 Enter Email:




Summary: Epiphany is about the surprising and seeming illogical courses God lays out before us. God's way is not the course of routine, of ritual, of tradition, of habit. And if we follow God's will, chances are, our lives won't take a logical course. While we search for meaning in the routine, God moves in an unexpected direction. Epiphany calls us to listen for and celebrate the unexpected and surprising paths God wants us to take.

Summary: Jesus' epiphany celebrates his manifestation to the world, but it also demonstrates how he was recognized for his unique role in salvation history. As Jesus was sent by God into our world and was recognized for who he was, so the Lord has chosen us to be his followers. Let us hear the Master's call and willingly chose to follow him.

Summary: While each year, nativity scenes depict the wise men at the stable, their visit may have come as much as two years later. Who were these mysterious men? Where did they come from? Did they know their gifts would hold as much significance as the church places on them? We can still learn much from these men who came seeking and worshiping the king of the Jews.

Summary: Succeeding at the sort of change represented by New Year's resolutions requires not so much willpower as a particular kind of focus.

Summary: Epiphany reminds us that Jesus Christ has come into the world as the Light for all humanity, and that nothing can extinguish this light.

Summary: The wise men followed God's guidance perfectly, handled King Herod perfectly and brought perfect gifts. They are models for those of us who are looking for Jesus today.

Summary: Our text promises that when Jewish exiles have returned to Jerusalem, the glory of God will come to the city, and through Israel, it will be a light to the Gentiles. That promise begins to be fulfilled with the coming of the magi and Jesus' encounters with Gentiles during his ministry. The glory of God is fully revealed when Jesus is crucified under the Gentile Pontius Pilate and raised on Easter.

Summary:
Ours is not a God of pain and suffering. Loss, grief and sadness are all part of this earthly existence, but God did not send the Christ child to bring pain. Christ came to bear pain, to experience all that it means to be human, and reorder and recreate it into something good. Our God is a creative spirit that moves over the chaotic void and organizes it into something meaningful and good.

There are 8 sermons in your results.