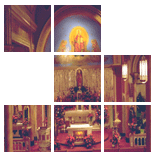 Enter Email:




Summary: Many of us have the opportunity to play a role similar to John's in identifying and supporting the spark of godliness in another person and urging them to find their identity in the kingdom of God. Whenever we help people realize the gifts God has placed within them, we are doing a John-the-Baptist kind of thing.

Summary: John the Baptist pointed to the Savior as the Lamb of God. This is the same lamb from Revelation who not only bears the marks of slaughter, but also opens the door to salvation for the world. Follow in John's footsteps. Bear witness to the world in word and deed that Jesus is the Lamb.

Summary: We all have energy cycles throughout each day. Sometimes were up, sometimes we're down. We may even be more susceptible to temptation during the low moments, but God's grace and truth is much available in our downtimes as at any other point of the day. We should touch base with God at any hour, to keep our hearts in tune.

Summary: John the Baptist introduced Jesus as the sacrificial Lamb of God who happens also to be the very Son of God. This is good news!

Summary: We cannot avoid living with problems. But we can trust God and rely on him as a servant relies upon his master. And though we will still go through upsetting things, over the long haul, we will know peace.

Summary: The dove descended on Jesus, signaling to John that Jesus was the Son of God. John pointed out Jesus to his followers. They in turn told others. This is a model for us of discipleship and evangelism.

There are 6 sermons in your results.