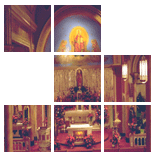 Enter Email:




Summary: In Jesus' "last will and testament" he spoke of what had been done, what was left to do and what he came to do. He has left much of what is still to be done to us. This is our inheritance and our treasure. But it is also ours to do. This inheritance is a life work, a grand purpose. We are set aside to tell the world the story of Jesus and his gift.

Summary: In order to have high, holy times, we need to handle everyday matters responsibly.

Summary: Most of us who follow Jesus nonetheless feel the tug of the world, calling us to make its values, not God's, the place on which we stand. But when we work at the spiritual disciplines and invite Christ into the very center of our lives, our predominant experience is that of joy, peace, spiritual power and a sense of sufficiency.

Summary: Easter is a message for the whole world.

Summary: On the night before Jesus was crucified, he prayed for his disciples, who would be facing a difficult road ahead. In our own lives, we face difficulties that cause us to wonder if we will make it. How can Jesus' words to the disciples bring strength, hope and confidence to us today?

Summary: After the death of Judas, the disciples met, nominated two candidates to replace him, prayed and then cast lots. That seems like an odd way to go about the work of the Lord. But regardless of what method we use to call leadership in the church, prayer is essential, as well as faith that it is God who strengthens us and makes us equal to the task.

There are 6 sermons in your results.