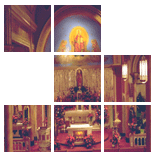 Enter Email:




Summary: From its earliest chapters, the Bible is a book of invitation. It's appropriate therefore that the concluding paragraphs should spell out the invitation one more time -- and with a warning.

Summary: If we believe that possibilities are limited and that boundaries are set, then praying for the impossible makes no sense. But if we believe in God's power, love and goodness, then our prayer may be cooperation with his will. It may even be that our prayer, which is a new element in the situation, will be part of the means by which God's will is done.

Summary: The first-century faithful were diverse religiously, ethnically and culturally, but they found unity believing in a suffering Messiah through whom God dwelt in their midst, who on their behalf brought that suffering home to God. Our unity is also found in the suffering Messiah, whom we share with all branches of our faith.

Summary: The God who created the world out of nothing and who, at the creation, brought order to chaos, is stronger than the power of nihilism and chaos yet today. God, not despair or destruction, will have the last word.

Summary: The Christian community is to be in unity like the Father and the Son and the Spirit. The key to that unity is love — the love that is God, that God shows for us and that we are to have for one another. For the church to be a loving community is a way of reaching out to the world. The church, imperfect in its love, is still under the cross as it lives in the hope of resurrection.

Summary: These closing paragraphs of our Bible, which offer the promise that Jesus is returning, and "soon," lay out for us through intense symbolism and imagery how we are to live, and how we are to present ourselves to the world in the meantime.

Summary: Jesus's final act is to pray for his friends and disciples. We are invited to the kind of intimate relationship Jesus has with God, not as eavesdroppers, but as active participants in a lifestyle of divine love.

There are 7 sermons in your results.