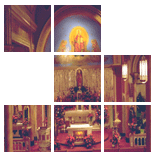 Enter Email:



Summary: It is Christ-like not to blame or discard others for the ways they have coped with the hard hand they've been dealt.

Summary: The Gospel challenges us with its radical offer of mercy and forgiveness.

Summary: Darkness within our minds and spirits is not what God wills for us. Those who call upon God and allow him to rule their lives receive the light that dispels the darkness within.

Summary: We ought to pray for everyone because God loves everyone and wants everyone to come to salvation; and we ought to pray especially for persons in power because of their influence on all the rest of us.

Summary: The voice of our good shepherd leads to eternal and abundant life.

There are 5 sermons in your results.