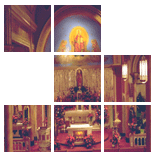 Enter Email:



Summary: The very concept of church can be taken for granted. As we focus on the dedication of the mother church of the Catholic world, we are invited to reflect on what we mean by church and realize that we as its members are called to be life-giving water for the world.

Summary: Jesus cleared the temple of the moneychangers and the sacrifice sellers, but that was not to condemn us for selling tamales or cookies on parish grounds after Mass. It was to protect the rights of the poor, who are the Savior's children.

There are 2 sermons in your results.