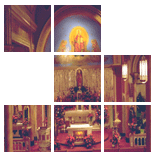 Enter Email:




Summary: Jesus answers a question about the nature of salvation unexpectedly. His answer warns insiders against presuming their acceptance by God, and it invites outsiders to come and experience God's salvation.

Summary: The words of Christ in today's Gospel contains a paradox, the first shall be last and the last first. It reminds us that we should avoid the presumption that we are "saved," and that, in effect, we are among the "first." We can hope for that, and pray for that, but most of all we must see "being saved" as the beginning of a lifelong process in which we face the challenges to love God on a day to day basis. As Christ said "many who say Lord, Lord will not enter the kingdom but only those who do the will of my Father." We should remember that many others, by the attitude of their hearts and the actions of their lives, may be living closer to Christ than we ever imagined.

Summary: Jesus was on his way to Jerusalem, knowing fully what he would face there. With that in mind, he wanted to remind and teach people about the dangers facing them if they took the easy way out when faced with decisions about their salvation and eternal destiny.

Summary: True religion is not defined by going to a church, singing a hymn or displaying a religious symbol. As Christian people, our religion can be true only insofar as we live the God-life as shown to us by Jesus. Though that may be entered by a narrow gate, it is one through which he will lead us.

Summary: Whatever we seek to achieve in life, the goal we set often determines the outcome. Unfortunately those who are satisfied with the minimum often end up with nothing. Our journey to the kingdom of God can entail the same dynamic. Those who shoot for the minimum, whose concept of being a person of God is keeping a few basic rules may well find themselves coming up short. Jesus offers so much more to those willing to come in through the narrow door. So what is the narrow door and where can it get us?

Summary: Who we meet in heaven may be a surprise if the "gate" we picture is too wide. To go through the narrow gate of which Jesus spoke requires us to focus on what really matters in the kingdom of God and to not try to serve two masters.

Summary: "Lord, will only a few be saved?" is ultimately a presumptuous question that doesn't merit a direct or simple answer, and Jesus refuses to give one. "Am I one of the 'saved'?" is the only question with which the faithful need concern themselves.

Summary:
Perhaps there are some things more interesting than doors, but not many. Open doors are welcoming while closed doors are rude and foreboding. Doors represent opportunities, possibilities and challenges. Jesus says that we should "strive" to pass through the "narrow" door. Then he utters an ominous warning: Many "will try to enter and will not be able." What does he mean?

There are 8 sermons in your results.